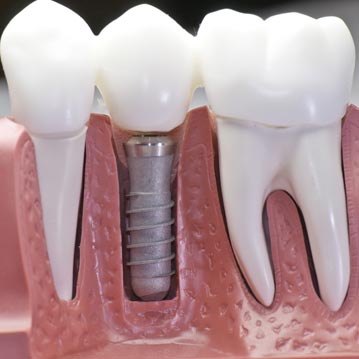 Dental Implant
The goal of modern dentistry is to return patients to oral health in a predictable fashion. The partial or completely edentulous patient may be unable to recover normal function, esthetics, comfort and speech with a traditional prosthesis. But implant prosthesis can return these functions to normal limits by conserving the vital structures intact. Merging the most modern in dental expertise with years of know-how and continuing experience we offer our patients a broad group of services.
Dental Implants is an artificial tooth root replacement usually made from titanium used to support one or more false teeth. Dental implants are a perfect selection for people in good general oral health who have lost a tooth or teeth due to periodontal disease, failure of endodontics, an injury, or some other reason.
For people who have lost teeth, implants provide artificial teeth that look more natural and feel safer. Implants can be used to replace a single missing tooth or support a bridge, full dentures or partial dentures. Dental implants are in fact more tooth-saving than traditional bridgework, since implants do not rely on neighbouring teeth.
Implantologist
Dr. Biju Philip is a postgraduate in oral implantology from renowned Manipal University. He is in the clinical practice over 20 years. His expertise covers simple and complex dental implant treatments. Dr. Biju has broad experience in oral implantology having been involved in it since the inception of the technology. His practice is driven by his viewpoint and mission to offer total diagnosis and educational prospects for sustaining contented, fit and esthetically agreeable dentistry for a lifetime.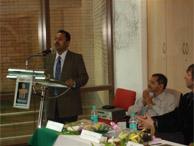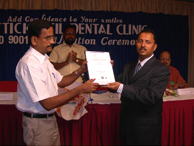 The benefits of dental implants
they look, feel and function like natural teeth
they are strong and long lasting
you avoid the embarrassment of loose dentures
restore your chewing ability with confidence
Typical steps for placing an implant
the implant is placed in to the jaw bone
a temporary prosthesis is placed over the implant immediately
after 3 months permanent prosthesis is fixed

Why choose us for your dental implant treatment
we have advanced training in implant skills and use techniques known for their innovation and reliability
much shorter implant procedures
we use the most latest and advanced equipments
we offer comprehensive planning to ensure the ideal treatment to suit your needs and budget